Events inspired by images from the Edward Reeves Archive have helped the local community develop a deeper connection with their history.
7th September 2019
Make Do and Mend
Depot Cinema, Pinwell Rd, Lewes
2:00 – 5:00pm
Make Do and Mend kickstarts an online directory of where you can reduce, reuse, recycle, repair and refurbish in Lewes. The event will encourage you to think again about what you might throw away… but which could be reused!
An event showcasing Lewes campaign groups and businesses who promote a more sustainable model of shopping and consuming, including:
Plastic Free Lewes – reducing use of single-use plastic
Dolly – recycling and reusing clothes and fabrics
KnowTrash – art made from recycled objects from around the world
Bike Repair – giving bicycles a new lease of life
Landport Repair Café – reusing household items

Part of Reeves Lightbox exhibition of archive photographs Lewes High Street: Retail Retold.
25th April 2019
Rights Dignity Hope 
Lewes Town Hall 
"Lewes Mayor Janet Baah is passionate about the young people of the town, which has led her to invite one hundred girls from schools and colleges across Lewes to the Town Hall for a day of brainstorming and events. The girls will articulate their hopes for the coming ten years.
"These declarations will be put into 'The Box of Hopes' – a time capsule to be opened in 10 years' time – which will be the anniversary of 1928 when all women in Britain got the vote.
"This event is a collaboration with the Edward Reeves Archive project, who will be showing their 'From Suffrage to Citizenship' exhibition, about the fight for woman's suffrage in Lewes, which was curated to commemorate the first women getting the vote in 1918. A banner, a handmade quilt, created by local artist Heather Downie for this event, will be unveiled and put on permanent display in Lewes Town Hall.
"The Friends of Lewes sponsored the framing of Heather's banner.
"The poet Grace Nichols who is resident in Lewes will read a poem, and musicians from East Sussex College will perform.
"30 dignitaries have been invited, including East Sussex's Lord Lieutenant and High Sheriff, MPs, three Resident Baronesses, as well as representatives from the Police and the Chairmen of Lewes District and East Sussex County Councils."
    – Friends of Lewes, April 2019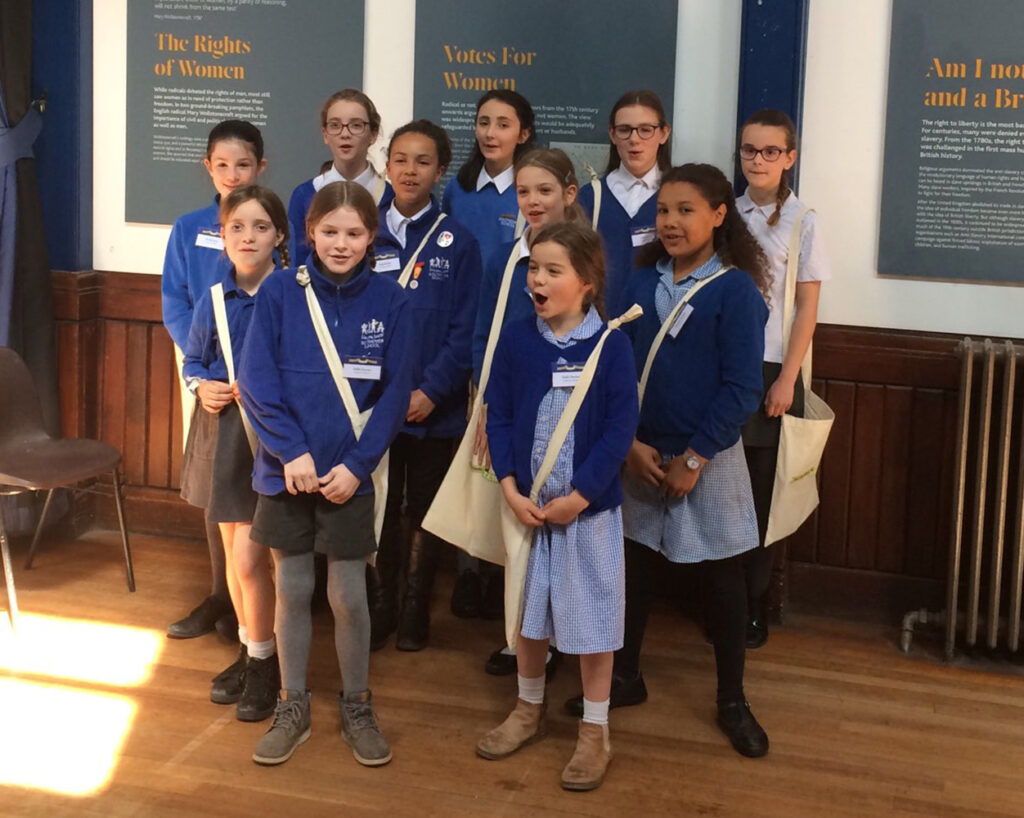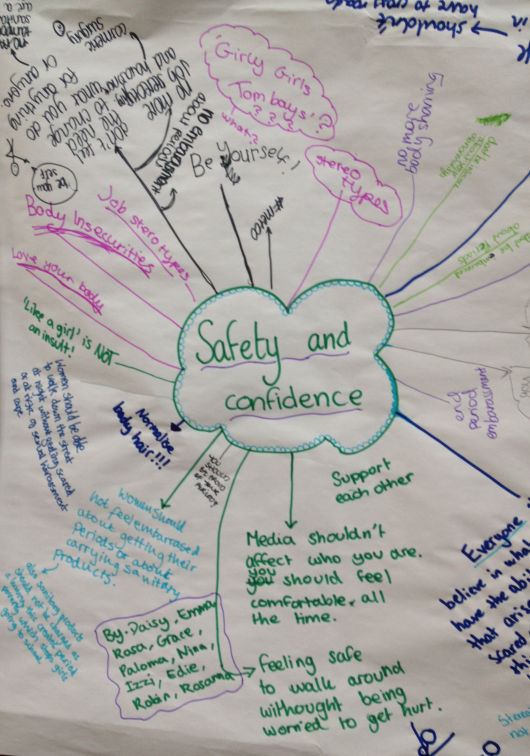 Above: Schoolgirls speaking at 'Rights Dignity Hope'; Discussing safety and confidence for girls and young women
15th December 2018
Woman's Rights exhibition Open Day 
Yarrow Room & Baxter Corridor, Lewes Town Hall 
An open day featuring a stall by Equality FC, Suffrage photos and artifacts, plus the chance to register to vote – to 1918 rules.
Above: Mayor Janet Baah speaking on the town hall staircase; The Equality FC stand
11th November 2018
Film Screening: "Creating Lewes Remembers"
Depot Cinema, Lewes 
A follow up film to Lewes Remembers, documenting the conception and organisation of the 2017 remembrance event.
17th May 2018
Reflections on a Glass Plate – PARC Symposium 
London College of Communication 
An event aimed at heritage professionals or anyone with responsibility for collections of glass plate negatives and who are looking to undertake projects with these materials for the first time. The event offers introductions into the history of the format, its care and conservation, and presents case studies which demonstrate approaches to digitisation, cataloguing, outreach and interpretation.
The event is a collaboration between The UAL Photography and the Archive Research Centre (PARC), The Past on Glass Project at Sutton Archives, Edward Reeves Archive Project and The Photographic Collections Network.
Featuring: "The Glass Plates and Ledgers of the Edward Reeves Archive in Lewes" by Brigitte Lardinois.
and 
Lewes Remembers event short film screening 
19th April 2018
Lewes Civic Awards 2018 
Council Chamber, Lewes Town Hall 
Civic awards for outstanding service to the people of Lewes were awarded to Tom Reeves, Tania Osband and Brigitte Lardinois in recognition of their work in creating the Lewes Remembers event.
Above: Lewes civic award; Brigitte, Tania and Tom receiving their awards from Mayor Mike Chartier
5th February 2018
Film screening: "Lewes Remembers" 
Depot Cinema, Lewes 
A documentary film recording the Lewes Remembers memorial event.
12th November 2017
Lewes Remembers Event 
Lewes War Memorial 
"As a result of the First World War, the town of Lewes suffered more than 350 casualties, of whom 236 are recorded on the war memorial.
"They are represented by our 236 torch bearers tonight.
"Lewes Remembers"
    – Read at the War memorial, 12.11.2017
Lewes Remembers 1914-1918 was a unique vigil commemorating Lewes soldiers who lost their lives during the First World War. It was the final act in 2017 for Stories Seen Through A Glass Plate – in which light box images relating to the 1914-1918 period were exhibited throughout the town in relevant locations. The project linked The Edward Reeves Archive with the Sussex County Archive and actively engaged hundreds of young men. The experience of the ritual intensified the awareness of what it would have meant for a small community to lose so many of its young men. The event had a profound effect on both participants and onlookers alike.
The Lewes War Memorial records 236 names of Lewes residents who died in World War 1. There were approximately 350 local casualties, many of whose names are commemorated elsewhere in the town. At dusk on 12th November 2017, 235 men and one woman of the age of those who died walked with a flaming torch from the home addresses of the fallen soldiers to the War Memorial, where their torches were extinguished. Where more than one person in a family died the men doused their torches together.
The Lewes Remembers vigil on 12th November 2017 was created by nearly 500 Lewes volunteers with the support of the seven Lewes Bonfire Societies and the staff at Lewes Town Hall. Without their commitment and logistical work behind the scenes none of this could have happened. All services were provided free of charge and a small grant from Friends of Lewes paid for the information leaflets and the badges of the participants.
For logistical reasons, the vigil could not be advertised, so a short film was made by four professional filmmakers resident in Lewes in order to share the event with the community. It was directed by Tony Dowmunt and Mick Hawksworth. The 'Lewes Remembers' film is a Lewes Community Screen Production in collaboration with the London College of Communication, UAL and the Edward Reeves Archive Project, who initiated the Remembrance Day event.
Click here for more information and to watch the event film.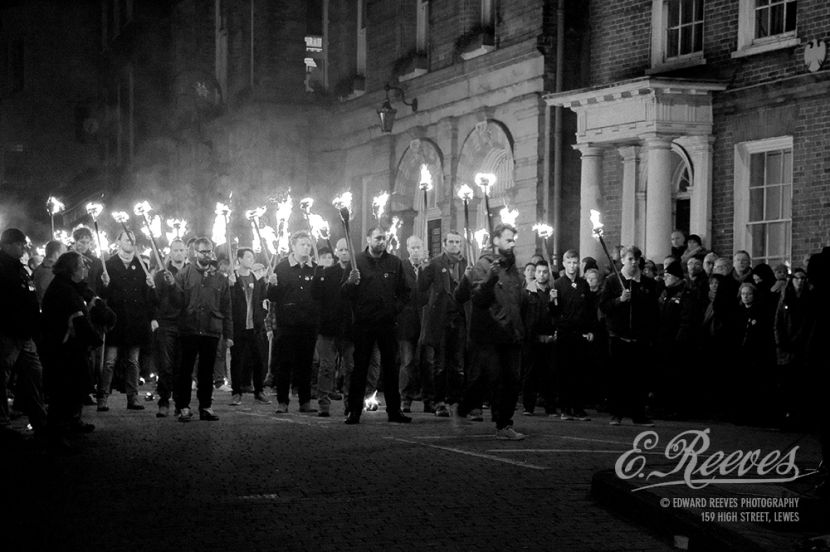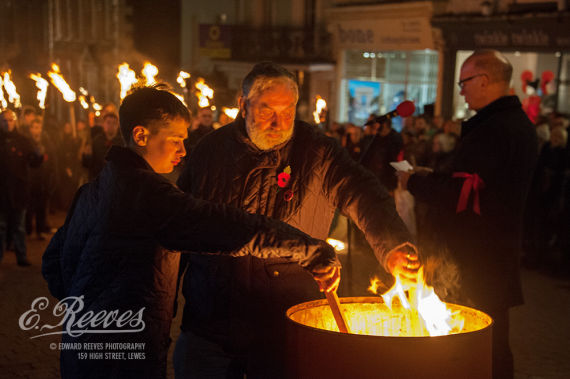 9th September 2017
Studio Open Day 
Edward Reeves Studio 
Part of Lewes Heritage Open Days
25th February 2017
First World War Music Hall 
Assembly Room, Lewes Town Hall 
A patriotic evening of musical entertainment including sketches, monologues and popular songs of the era, as performed for the troops in the Assembly Room, Lewes between 1914 and 1918, with audience participation accompanied by Lewes Glynde and Beddingham Band, members of Lewes Operatic Society and other artistes for your delectation and enjoyment, together with a well-stocked bar (wines, beers and soft drinks) and a capacious buffet supper.
This event – organised for the Mayor's Charities for 2017 – was an initiative of Dr Graham Mayhew. An accompanying exhibition was organized to as part of this event.
Above: Dinner for the troops 1914; recreation, 2017
19th November 2016
Concert: Songs of Farewell 
St Michaels Church, 158 High Street, Lewes 
In partnership with Stories Seen through a Glass Plate, the Esterházy Chamber Choir marked the centenary of the Battle of the Somme with a concert of some of the most searingly beautiful choral works written by British composers during the 20th and 21st centuries, drawing together themes of loss, rest and remembrance.
Above: the Esterházy Chamber Choir; 'Songs of Farewell' concert poster
30th October 2016
Public Activity Day: 
Study Day
All Saints Centre 
The programme will include, by courtesy of the Imperial War Museum, two screenings of The Battle of the Somme, a film made by the War Office in 1916, the first full length documentary film ever made and which will be introduced by Hilary Roberts, Curator of Photographs at the Imperial War Museum. 
Part One – 2pm: first screening, with commentary, followed by three twenty minute talks on photography and life in Lewes during WW1. 
Part Two – 5pm: second screening of Battle of the Somme, without commentary, but with a specially commissioned orchestral score.  
Walk and Talk tours of the Stories Seen Through a Glass Plate light box exhibition, departing from Lewes Tourist information Centre. 
Open Day at the Edward Reeves Studio
159 High Street, Lewes, BN7 1XU
An exhibition of original WW1 photgraphic equipment and props. Accompanied by live music and readings of the era.
15th January 2015
Demonstration: 'Capturing Light' in Cyanotype and Lumen Printing 
Silverprint, London 
Constanza Isaza Martinez
Yaz Norris 
A demonstration of alternative photographic processes by two of the exhibiting artists of Capturing Light II at South London Art Map event, in association with the London Alternative Photography Collective
26th October 2014
Pinhole Camera Workshop 
Lewes Castle and Museum, Lewes
Photographer Melanie King
In association with BPB2014
Above left: Lewes High Street:  Memories of the Reeves Studio – Drop-in filmmaking workshop in the Reeves Studio
Above right: Pinhole Camera Workshop at Lewes Castle and Museum
26th October 2014
Stories Seen through a Glass Plate and memories of the Reeves Studio 
Edward Reeves Studio, Lewes 
Filmmaker Abigail Norris
A drop-in workshop – participants interviewed and filmed in the style of traditional 19th century style portraiture. This film can be found on our short films page.
In association with BPB2014